Highlights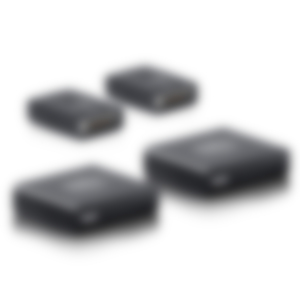 Key advantages at a glance
Transmitter set for wirelessly controlling both System 6 THX subwoofers
Set contains: 2 x wireless transmitters, 2 x wireless modules
For stable digital transmission over 10 m that is both lossless and wireless
Easy installation, compact dimensions, low energy use, standby function
Automatic on, transmits line signal and volume changes
Suitable for use with the System 6 THX and A/V receivers with 2 subwoofer outputs
Comes with mains adapter and audio cable
This set wirelessly controls both System 6 THX subwoofers. Simply plug in the transmitters and connect them to the A/V receiver via included audio cable.

SubConnect MOD
This SubConnect MOD is for use with the T 4000 subwoofer or S 6000 Subwoofer and CoreStation A/V receiver or DecoderStation 6 or Subwoofer Wireless Transmitter (connects to the line out of third party amplifiers). The MOD is simply plugged in to a dedicated slot it the back of a T 4000 or S 6000.

Initial connection of the subwoofer MOD to a CoreStation/DecoderStation 6/Subwoofer Wireless Transmitter can be comfortably achieved using the CoreStation/DecoderStation 6 menu on your TV. Once paired, they will connect automatically when turned on and within 10 meters of each other.

Facilitates fast and space-saving placement of subwoofer systems in your home. Lossless signal sends clean, precise bass with high fidelity pulses.

For the SubConnect wireless module, you'll need:

1. T 4000 flat subwoofer or S 6000 active subwoofer
2. CoreStation or DecoderStation 6, or Subwoofer Wireless Transmitter plugged into an AV receiver

Included components
Subwoofer Wireless Maker System 6 THX
2 × SubConnect MOD – black version
2 × Sub Connect TX – Black

1 × power adapter – Black
1 × Mono-Cinch-Cable 0.5m - C3005A – Black
Specifications
SubConnect MOD

Wireless module for the T 4000 flat subwoofer and S 6000 SW


| | |
| --- | --- |
| Width | 6,4 cm |
| Height | 2,4 cm |
| Depth | 9 cm |
| Weight | 0,08 kg |
Accessories
All necessary accessories are included in the delivery.